Landes
Self-catering Landes holiday rental homes in France
Landes is a department found in the South-West of France in the Aquitaine region. It's surrounded by the departments of Gironde, Lot-et-Garonne, Gers, and Pyrénées-Atlantiques, as well as the Atlantic Ocean on the west. Landes is, after Gironde, the second largest department of mainland France.
The Landes department has been able to preserve a great deal of its natural heritage. Running parallel to the Atlantic Ocean; there are long stretches of coast and shifting sand dunes, with a number of large lakes beside them in the north. The south of the department is largely hilly and around half of Landes is covered in forest.
Today vast pine forests have been planted to stabilise the sand dunes. It is from these two features that the Landes derives its wealth - tourism, to the coastal resorts in the summer months, and sales of pinewood and its derivatives.
A visit to Landes must include a trip to the Ocean, known as the silver coast, it boasts the largest waves Europe has to offer. Unsurprisingly surfers from all over the world flock here every year. Stay in a Landes holiday rental villa or cottage and explore the wide range of outdoor activities on offer. Good use is made of its lakes and water sports are very popular. The area is also perfect for hiking and cycling enthusiasts.
The capital of the Landes is Mont-de-Marsan. This historical town is located at the confluence of the Midou and Douze. It has been a centre of trade throughout its history and Is well worth a visit while renting your holiday home in the Landes.
Capbreton is another attractive seaside resort to tempt you during a stay in the Landes – it's located in the south of the department. It also has an active fishing port and a promenade built by Napoleon III. Nearby you'll come across Hossegor, another resort, which has generated a great deal of interest by way of the many artists, writers and architects who came here in the 19th Century. Every year the World Surf Championship bases part of its contest here.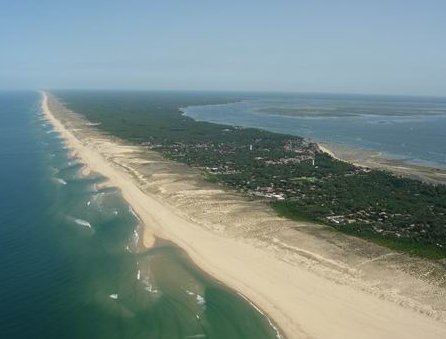 Travelling to your self-catering holiday accommodation in Landes, France
By rail: TGV trains take under 3 and half hours to travel from Paris to Bordeaux. It is also possible to take the service to Biarritz as well. By air: British Airways, flybe, bmibaby and easyJet all fly to Bordeaux from most UK airports, while Ryanair flies to Pau and Biarritz from Stansted. By road: The main motorways to serve the department are the A63 and the A64 – these provide good links to the rest of the country.