Finistere
Self catering holiday rental cottages & gites in Finistère, France
Search Rent-in-France for self catering rental cottages, gites and villas in the Finistère area, France. Finistère which comes from the latin name Finis Terrae meaning end of the earth is a department of France located in Brittany. This department is sometimes compared with Lands End but on the opposite side of the English Channel. Excluding the overseas departments Finistère is the westernmost region of France which streches along the English Channel all the way across to the Atlantic. A holiday rental home in Finistère, France will offer you around 750 miles of wonderful coastline to enjoy during your stay with its number of islands, inlets and bays.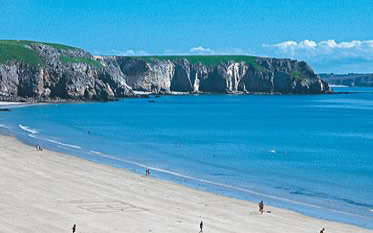 Finistère is a part of France with a strong historical background with particular attention to King Arthur and his knights and World War Two. There is a large number of medieval towns, chateaus, ancient megaliths, finistere barns and museums which can be enjoyed during your self catering holiday in Finistère.
There is plenty to entertain your children whilst holidaying in Finistère, France. Brest is home to the huge marine park of Oceanopolis which is one of the biggest tourist attractions in the area. There are also a number of other attractions that will definitely capture the imagination which include the Branfere wildlife park, Planete Sauvage, Parc du Golfe, Parc de Prehistoire and some fantastic paint-balling facilities. Many of the sporting activities on offer are focused on the sea where a self catering Finistère holiday rental property will offer you some of the best rowing, surfing, sand yachting, sailing and canoeing that France has to offer. Whether it's through the palm groves, along the cliff tops, or inland to the medieval mythical forest of Merlin the Magician there is plenty of walking and cycling routes available.
Things to do and places to visit in Finistère, France
With their famous magnificent Finistère villas, ancient stones and historic architecture there are a number of great towns that must be seen when staying in a self catering holiday villa in Finistere - These include the towns of Brest, Crozon, Audierne and Quimper. Your holiday in Finistere, Brittany would not be complete without taking a boat trip to the famous Ile d'Ouessant, an island that makes up part of the Armorique Nature Reserve and is a must for all those nature lovers and cyclists out there.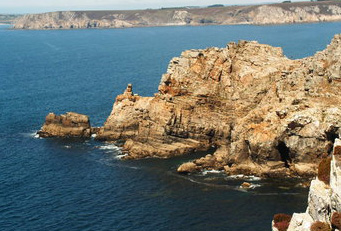 Brest: Brest is the largest town in the Finistère. The town was almost destroyed completely during the raids of World War Two and it had to be re-builded. There are still parts of the original city that remain including a 15th century castle and La Place Guerin which some say is a haunt of many musicians, writers and poets. Brest is an import harbour and naval base due to it's sheltered location on the western tip of the Breton peninsula.
Crozon: Crozon is situataed on the west coast of Finistère. This French town holds a number of festisval and fetes throughout the year. The festival du Bout du Monde which means The worlds End Festival is the best known, this great musical festival that is held in the summer months attracts visitors from all over europe who come to enjoy the live bands who flock to play at this well known event. There are many local shops and supermarkets for your every day needs which sell local produce such as Camembert cheese and Coquilles de St Jacques (scallops)
Quimper: The Capital of the Finistère department, this traditional region has a distinctive Breton feel to it. There are many shops and flags celebrating the regions Celtic heritage which can be found throughout the city. Quimper is a town that has a very rustic feel with a large number of footbridges that cross the rivers that flow through it. For food and drink lovers, Quimper is home to some of the best crêpes and cider in Brittany. Quimper is home to Les Hivernautes. Unlike most french regions with their summer festivals, this festival is held in the winter months and is one of the main attractions. Accordian players and pipers are often found on street corners in the summer time.
Roscoff: Roscoff is definitely worth a visit when renting self catering gites in Finistère due to its wonderful sandy beaches, its narrow alleys, the Notre Dame de Croatz church and its 19th century merchants houses. Boat trips are also available to the tiny offshore island, Ile de Batz.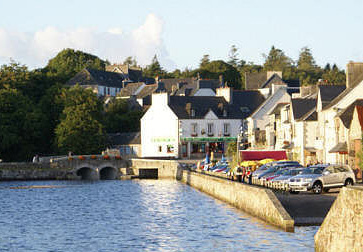 The climate in the Finistère is mild, summers are generally dry and cool which make it ideal for cycling ,walking or just relaxing in the laid back atmosphere that Finistère has to offer. The winters on the other hand can be rather cold with the average temperatures dropping down to around 5°C.
Holiday rental properties in Finistère, France are very easy to get to. Both RyanAir and Flybe offer budget flights to Finistère, landing at Brest airport (BES). This airport is served by a number of flights from Birgmingham (BHX) , Southampton (SOU), Luton (LTN) and Edinburgh (EDI). All types of accommodation in Finistère are within a two hours drive from a number of ferry ports including Cherbourg, Caen, St Malo and Roscoff. Irish Ferries, Condor Ferries and Brittany Ferries all supply travel to Finistère.