Self Catering Montmartre Holiday houses and Apartments, France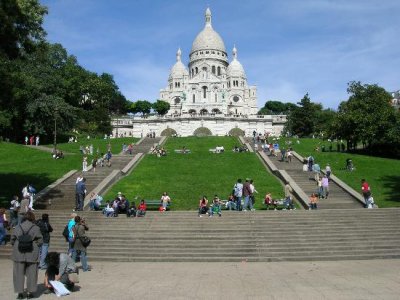 Montmartre, a hill 130 metres high, is in the north of Paris in the 18th arrondissement. Montmartre's most distinctive landmark is the white-domed Basilica of the Sacré Cœur on its summit – a must to visit while staying in your ideal holiday rental house or apartment in Montmartre.
Montmartre is an officially designated historic district with limited development allowed in order to maintain its historic character. Many artists had studios or worked in Montmartre, including Salvador Dalí, Amedeo Modigliani, Claude Monet, Pablo Picasso and Vincent van Gogh. Espace Dalí showcases surrealist artist Salvador Dalí's work and is a must to visit while renting your self-catering Montmartre apartment. Nearby, day and night, tourists visit such sights as the artists in Place du Tertre and the cabaret du Lapin Agile. Many renowned artists are buried in the Cimetière de Montmartre.
Picturesque Montmartre has also been the setting for several hit films, including the life story of Edith Piaf - La Môme, (La vie en rose) – take in the rich filmic atmosphere of the quarter while staying at your Montmartre holiday rental home. Another film set in Montmartre is Amélie, the story of a young Parisian woman determined to help the lives of others and find her true love. 2001's https://en.wikipedia.org/wiki/Moulin_Rouge! Moulin Rouge was also set in Montmartre.
Downhill to the southwest is the red-light district of Pigalle. The area is, today, largely known for a wide variety of stores specializing in instruments for rock music. There are also several concert halls, also used for rock music.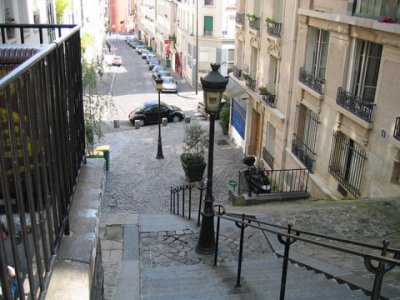 Paris is at its hottest in July and August and coolest between December and February, though Paris rarely experiences freezing temperatures. City breaks to Paris in the springtime and autumn will also experience pleasant temperatures. Parisians are used to heavy spring and autumn showers, and are not surprised by a sudden summer cloudburst. There is occasional snow in winter. Paris' average yearly temperature is 12°C (54°F), witnessing 3°C/37°F in January and 19°C/66°F in July. Temperatures often drop below zero in winter and can climb to the mid-30s or higher in the middle of summer.
Arrivals to Paris can be made via the city's numerous airports – including Charles-de-Gaulle and Orly. The Gare du Nord train station is within walking distance of Montmartre. Montmartre is well served by the Metro. Line 2 stations of Anvers, Pigalle and Blanche and also the line 12 stations of Pigalle, Abbesses, Lamarck - Caulaincourt and Jules Joffrin. A funicular railway, the Funiculaire de Montmartre ascends the hill from the south while the Montmartre Bus circles the hill.