Self Catering Nice Holiday Villas and Apartments – Rent in France
Nice, situated in the Alpes Maritimes department, in the Provence-Alpes-Côte d'Azur region has been a fashionable tourist destination for centuries. The spectacular beauty of Nice and its Mediterranean climate was discovered by the English upper classes in the 18th century. The city's main promenade, the Promenade des Anglais ('the Walkway of the English') even owes its name to the first visitors to holiday in Nice.
Nice retains its stunning medieval heritage in the vieille ville (old town), with narrow winding streets and closely-packed red-tiled roofs. The streets bustle with shoppers and shops. You can buy wine by the bottle or the barrel (bring your own container!) and be tempted by a variety of freshly-made pasta to enjoy at your Nice self-catering holiday apartment or villa.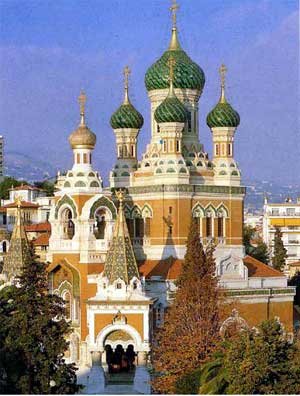 Nice offers a wealth of activities including sunbathing, swimming, theatres, opera and countless museums if you fancy a break from your Nice holiday villa. A walk along the Promenade des Anglais is a must during your holiday rental in Nice! The promenade stretches to 7 km around the Baie des Anges (Bay of angels).
Be sure not to miss the Rue de France while renting your self catering Nice holiday home, it runs parallel to the promenade. This area boasts shops, restaurants and cafés with outdoor terraces offering a great place to watch the world go by.
The hilltop "Le Chateau" is no longer a chateau – but instead offers fabulous views over the town and the Mediterranean to appreciate your holiday in Nice. You can walk up the stairs, or an elevator is available if your legs aren't up to it!
Cimiez sits on a hill outside the centre of Nice. It's an hour's walk, or journey by car or bus. The grounds of Cimiez include a large park, the Archeology museum, Matisse museum and the Franciscan Museum and Monastery. In August, it hosts the Nice Jazz Festival, with music every night amongst olive groves and the Roman Amphitheatre.
Cours Saleya is Nice's most famous market, it serves as the flower market and main market. On Mondays it has a large flea market too.
Nice enjoys a Mediterranean climate. The summer season typically lasts from May to October, although April and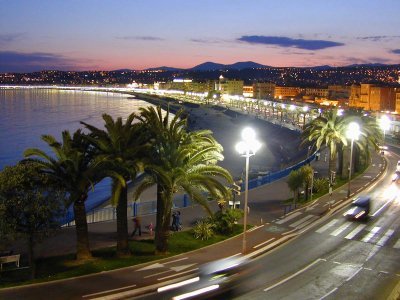 November often experience temperatures above 20 °C (68 °F). Winters are mild, with average temperatures of 13.4 °C (56.1 °F) during the day and 5.8 °C (42.4 °F) at night in the period from December to February.
Nice has its own international airport. Many airlines fly direct Nice from several airports in the UK, including easyJet and British Airways. Rail travel is possible. A TGV can take you directly to Nice, Marseille or Toulon. If travelling by road, the A8 autoroute takes you directly to Nice.