Haute-Loire
Rent in France - holiday rental villas and gites in Haute-Loire, France
Being one of the original 83 departments which were created back in 1790 during the French Revolution the Haute-Loire was made up from parts of the former French provinces of Lyonnais, Auvergneand Languedoc. Located in south central France, Haute-Loire takes its name after the Loire River, the longest river in France with a length of approximately 1013km. is part of the French region of Auvergne, the Haute-Loire is surrounded by the following regions, Ardèche, Cantal, Lozère and Loire. There is much to be explored and enjoyed when renting holiday property in Haute-Loire, France.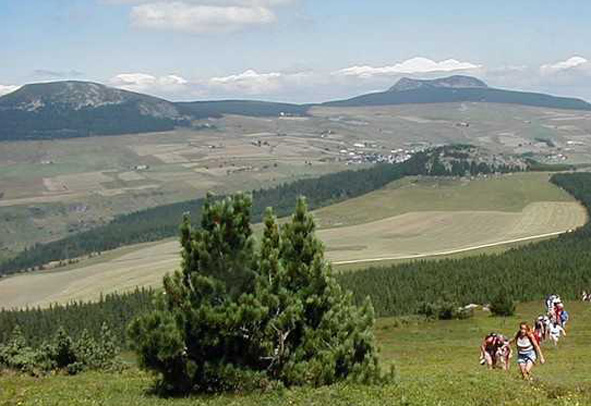 A self catering holiday rental home in Haute-Loire will offer you plenty of things to keep yourself busy with almost every outdoor activity available from the Allier gorges up to the volcanic plateaus of Mount Mezanc - whether you're searching for that perfect spot for walking, cycling, or riding to climbing, fishing, hand gliding and even bungee jumping – there is plenty to keep all types of holidaymaker occupied in the Haute Loire! Being one of the older looking departments some may say this is one of France's poorer departments, but during your stay you can admire a number of Renaissance churches and Black Madonnas situated in the area. Even in the winter months, the snowfall in the Haute Loire offers visitors the opportunity to go walking with snow shows or even enjoy a spot of skiing at a number of cross-county ski centres located at Meygal, Menzenc or Durand.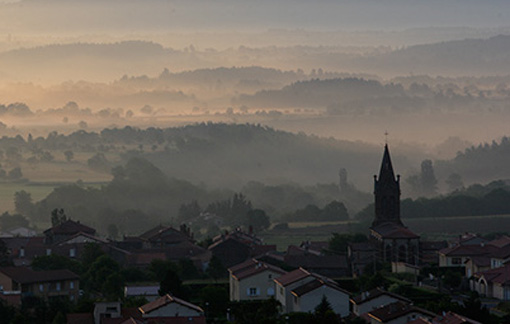 Between the Cliff tops in Le Thord or the commune of St Haon, to the river Loire, there is approximately a 600 foot drop with the majority of the gorges only accessible by roads. These roads are decorated with heavily wooded trees which in the Autumn months become beautifully colourful. The area is home to a large range of wildlife and some say this is a bird watchers paradise, where you can spend many hours watching soaring buzzards or hovering birds of prey.
Rent a Haute Loire farmhouse, villa or gite and enjoy the area's varied landscape, guarded by the "sucs" ancient volcanic cones the land is made up of volcanic earth and with its rich pastures the Haute Loire has respect for its agricultural traditions. After a long walk or ride our visitors can enjoy our famous beef and cheeses along with a superb range of lentils.
Places to visit in Haute-Loire, France
Le Puy en Velay – Possibly one of the most important towns in the Haute-Loire. The town was built within a volcanic cone on a series of rocks. Located in the south of the Avergne this town plays host to the start of one of the biggest events in France, the pilgrimage route to Santiago de Compostella.
Le Monastier-sur-Gazeille - A charming village full of old house and churches. A holiday rental in the Haute-Loire gives you the opportunity of taking the tour south of the Le Monastier-sur-Gazeille in which you can take in the wonderful villages such as Isssarlès, Arlempdes, and of course Mont Mézenc . Be sure to walk to the summit of Mont Mézenc during your stay as the views are fantastic!
Lavaudieu – situated in the north, there are many sites that are a must see whilst staying in your Holiday rental in Haute-Loire. Lavaudieu boasts that it is home to the only complete Romanesque cloister in the region. Other villages such as Brioude and La Chaise-Dieu all have a harmonious blend of Romanesque and Gothic architecture. La Chaise-Dieu is a small village located on a hill in the remote parts of the Parc Naturel Regional Livradois Forez. It also hosts a famous Sacred and Classical music festival every year.
Arlempdes – situated on the Loire, this wonderful picturesque town holds theatrical and musical manifestations every summer in the castle.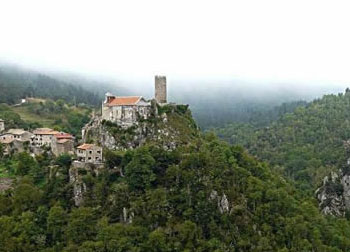 The Haute-Loire climate is very much the same as what we are used to back here in the UK. Whether you are looking for a summer heat wave to a fresh summers day, or a mild winter morning or a blanket of snow, a self catering home in Haute-Loire, France is definitely for you.
Getting to Haute-Loire may prove a little tricky with the nearest airport being Le Puy en Velay, which is also only served from Paris. Clemont Ferrand airport is the nearest large airport which is served by most UK airports, and from here, although a bit on the long side driving is straight forward. Le Puy en Velay is also home to the nearest train station and receives a regular service from Clemont Ferrand. There are also direct trains form Lille and Paris.
The Haute Loire offers you a magnificent range of wild gorges and rivers, a number of green prairies, plataeux and volcanic reliefs. It enjoys many sunshine hours due to its southern location in the Auvergne. It is an area of France that is relatively unknown with its authentic and natural and unspoilt surroundings.