SAINT VALENTINES DAY 2020 FALLS ON FRIDAY 14TH OF FEBRUARY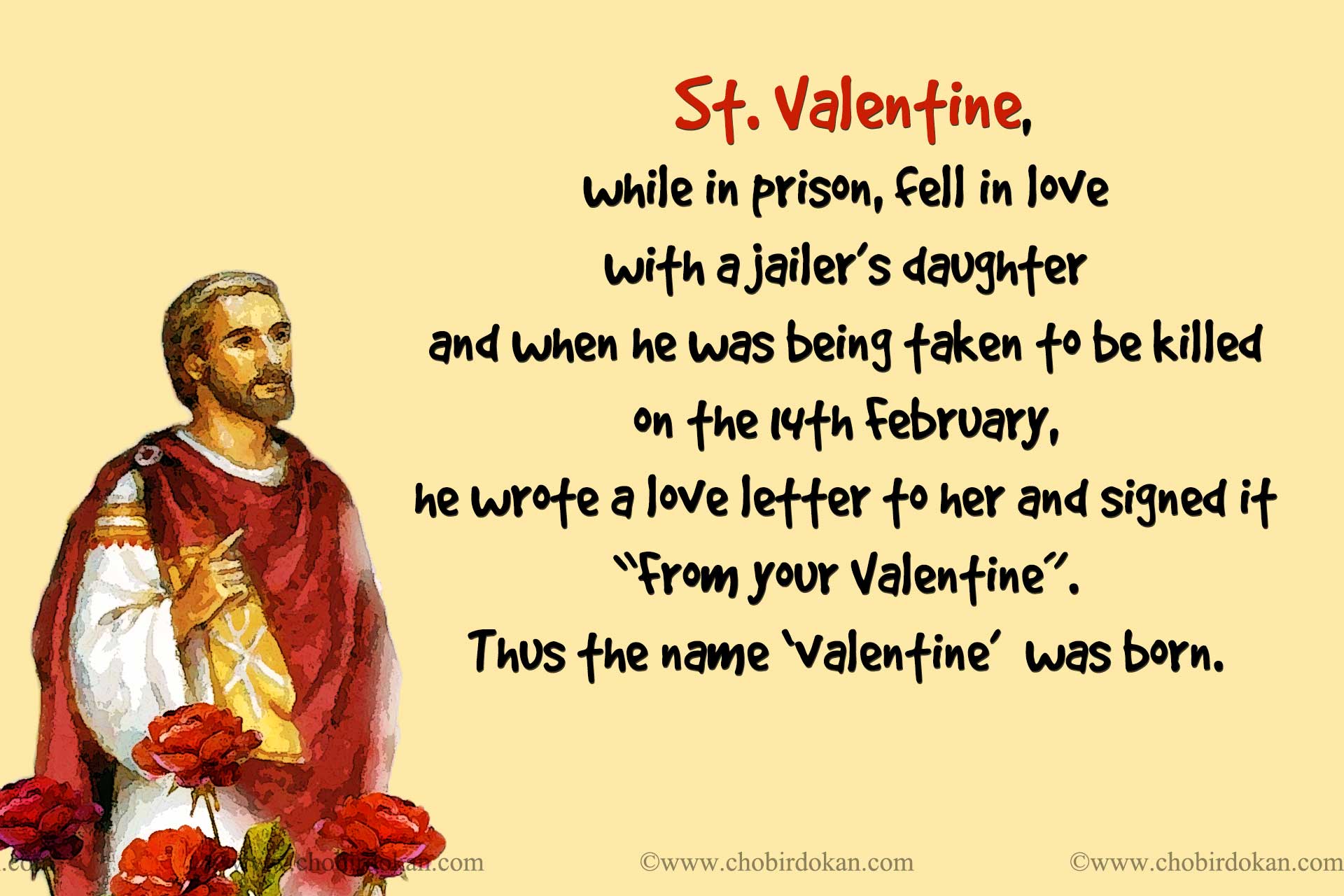 Who was Saint Valentine?
Saint Valentine was a widely recognized 3rd-century Roman saint, commemorated in Christianity on February 14. From the High Middle Ages, his Saints' Day is associated with a tradition of courtly love. There are two different Saints' Lives for a St Valentine on February 14, but they are probably the same man. It is said that the Emporer Claudius II had a man called Valentine arrested in 270 AD.
Known to all as Claudius the Cruel, the Emporer had to maintain a large army. However, the Romans of the day were reluctant to join the Legions of Rome and Claudius and his advisors thought the reason for this lack of interest lay in the reluctance of men to leave their wives and sweethearts behind and go fighting abroad.
So, to solve this problem, Claudius decreed that all marriages and engagements in Rome were to be banned. However, Valentine, a holy priest, decided he would defy the decree and carried on performing marriage services. As you might imagine, Claudius the Cruel was not impressed. The prefect of Rome ordered the arrest and imprisonment of Valentine and that he be put to death by clubbing and then beheading.
Whilst imprisoned, the legend has it that Valentine fell in love with the warder's daughter and, before he was put to death, he wrote her a farewell love letter which he signed 'Frome your Valentine'. And so, a legend was born and lovers have celebrated February 14th and the holy priest Valentine who was made a saint by the Roman Catholic Church. See more
Self-Catering Rentals in France - Make Saint Valentines Day special
One of the most romantic ways to show somebody that they are special is to surprise them with a break from the daily grind. Book one of the many great villas, townhouses, Gites, apartments or even a chateau from Rent-in-France and really enjoy Saint Valentines Day. You are spoilt for choice with the hundreds of great properties available. Here is a couple we think you might enjoy.
Restored Holiday House in Historic Village Vouvant, Vendee, France
Weekly Rental: From GBP 400 to GBP 650
A delightful, well equipped and comfortable two-bedroom house for both summer and winter in the medieval village of Vouvant on the edge of the Mervent Forest.
It is perfectly located so as to be readily accessible from the UK and yet is within an hour's drive of Ile de Ré, La Rochelle, Marais Poitevin, the warm white Vendee beaches and the famous major theme parks Puy de Fou and Futuroscope.
It is a location that provides something for everyone on holiday in every season.
The village shops and cafes are four minutes walk from the front door – quicker if you're thirsty. See more.
La Brigue Holiday Apartment to Rent, Apt 1, Les Alpes D`Azur, Place de Nice, La Brigue, Alpes Maritimes
Weekly Rental: From GBP 189 to GBP 289
One of two beautiful apartments that offer magnificent mountain views overlooking Place de Nice, the main square in La Brigue. One of France's most beautiful mountains villages, La Brigue is perfectly situated with a curious mix of Italian and French located close to the border in Alpes Maritimes. Until 1947, La Brigue was in fact Italian.
The apartments have been renovated, modernised and fully equipped and are set in the building that was formerly the 'Albergo Americano', an 1882 Italian inn on the French border. On the ground floor is the popular 'Bar des Platanes'.
This one-bedroom apartment is situated on the second floor and has a double bedroom with a balcony that overlooks the mountains to the rear of the building. The kitchen/living room is open plan with a small balcony that overlooks the Place de Nice. The kitchen area is fully equipped with an electric hob, oven, fridge and freezer. A large sofa bed, radio and table and chairs can be found in the living area. The apartment has windows on three sides which make it bright as it captures plenty of sunshine. The apartment has electric heating throughout which is included in the rental price as well as a wood-burning stove in the kitchen/living area. See more.
Please visit the main Rent in France pages and search for your ideal property. There are plenty of options available. If you need more information or help, you can contact Rent in France directly and we will be delighted to help. Enjoy Sain Valentine's Day in France.