RICK STEIN'S SECRET FRANCE - A TOUR OF FRANCE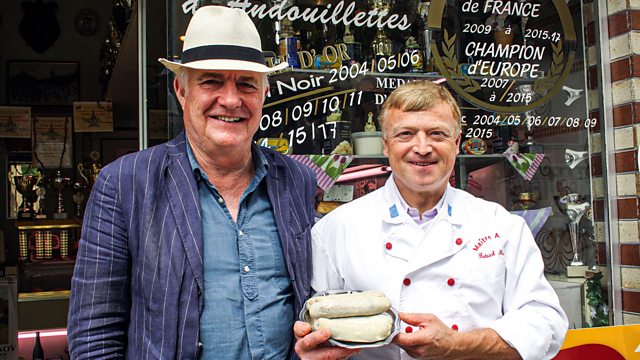 Without any doubt, Rick Stein is one of my all-time favourite TV chefs. He's more than a chef, he is also a travel journalist that enlightens us on the traditions of some of the most fantastic places he has visited over his long career.
I remember his first appearance on the TV or the first I ever saw of him and this was courtesy of another favourite TV chef, Kieth Floyd  (sadly no longer with us)
About Rick Stein
Christopher Richard "Rick" Stein, CBE is an English celebrity chef, restaurateur and television presenter. Along with business partner Jill Stein he has run the Stein hotel and restaurant business in the UK for over forty years.
Rick has written countless books and appeared in many travel programs where he has highlighted the cuisine of the places he has visited
The New Rick Stein Program Secret France.
Rick Stein embarks on a new journey through the byways of France, from the Channel to the Mediterranean, always on the lookout for things where we, the British, could learn from the French to enhance our lives.
Rick's journey begins in the Norman port of Dieppe with turbot straight off the boats, followed by a forage for sea herbs along the Bay of the Somme, inspiring him to cook a memorable seafood gratin. He then heads for southern Champagne, loved by Renoir, whose wife also happened to be a formidable cook.
Rick is touring France in his own car, a beautiful Porche sports car. You would think he would have driven something a lot bigger, but, as Rick tells us, he bought the Porche sports car because its small enough to fir in his garage at his own in Padstow. Padstow is a town, civil parish and fishing port on the north coast of Cornwall, England, United Kingdom. Rick Stein has done many a cookery program from this beautiful seaside location.
In this latest series, Rick Stein searches for France's best-kept gastronomic secrets. Rick's journey begins in Dieppe with turbot straight off the boats, followed by a forage for sea herbs along the Bay of the Somme.
This wonderful travel/culinary program shows off France in its most beautiful. It also shows off the great range of food and wines available. If you have never been to France then you should watch Rick Stein's Secret France and I guarantee that you will be rushing to the rent-in-France main website pages to check out the locations and what is available for rent in that area of France.
If you didn't see the Secret France program, don't worry. You can watch it on BBC Iplayer. We hope you will enjoy it and that we will see you in France very soon.
Rick Stein Secret France Starts in Dieppe
Well, seeing as Rick kicked-off his journey in beautiful Dieppe, let's remind ourselves what is available in that area from Rent-in-France self catering properties.
Newly refurbished house in Beautiful Varengeville-Sur-Mer, Close to Dieppe - Les Bruyères
We are very proud to present our newly refurbished house in beautiful Varengeville-Sur-Mer. It's close to Dieppe, one of a number of French towns and cities which have earned the title "Ville d'Art et d'Histoire" from the French Culture Ministry.
Our aim is for you to have a wonderful holiday, soaking up the delights of Seine-Maritime, a part of France perhaps a little less visited, as many holidaymakers only pass through on their way further south. With that in mind, and to make the planning as enjoyable as the holiday, this site is like a treasure hunt with copious links to click on.
You can walk to a beach in 20 minutes from Les Bruyères, yet the countryside all around is verdant; the Alabaster Coast has amazing cliff views. Normandy has fabulous gardens, old towns, châteaux, abbeys and forests to explore.
The area is an ideal base for walking and cycling. You can set out by car, even on foot, and be rewarded with a wide variety of coastal paths, forests, cycle routes and footpaths, including the Avenue Verte.
There are so many other activities - swimming, horse riding, tennis, golf, go-karting, beach games, boat trips, fishing, crazy golf - you'll be spoilt for choice of things to See and Do.
So start getting excited now - and fill your holiday with joy in Normandy. See more of this fantastic property.